Episode – 3
Scene 1
A young prince whose face is poetic and filled with dharm comes into a mansion and calls for Devika.
She comes and addresses him as Aryaputr. Yes, he is the crowned prince of Hastinapur "Yudhisthr".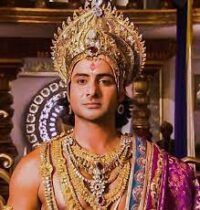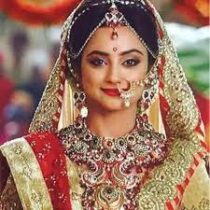 Yudhishtr: Devika, come sit here. I know you are angry with me.
Devika: Of course, I am. You have completely forgotten me for the past 1 month.
Yudhi: No, I've been traveling to different states regarding the nation's duty.
Devika: I understood but still my heart and child need you.
Yudhi: I heard something that you won't step on the throne with me.
Devika: Yes, I won't.
Yudhi: Why?
Devika: If you are stepping on that, I'm feared of what would have happened to Devarji. I and Bhanu are living like sisters here. I don't want to see her in a bad state.
Yudhi: Devika, I can't promise you that. If there is a war, then I need to fight against them. Even people want me to be the king. This is my right too. I'm not saying that I should enjoy all these rights, I'm telling Duryodhan that we can share the rights. Hastinapur is a big nation, we can work together. But…
Devika: Aryaputr, let's leave it to the fate of God. Let's talk about something else. Nowadays, our baby's movements are so visible. The baby is happily playing in my womb.
Yudhi touches her womb and kisses her stomach.
Devika: Kiss is only for baby a?
Yudhi smiles and kisses her forehead.
Just then servant comes and calls Yudhi as some people have come to meet him. He then bids goodbye to Devika and leaves.
After sometime…
A young charming prince comes to meet her.
Prince: Bhabishri…
Devika: Nakhul, come in.
Nakhul: I brought these mangoes for you.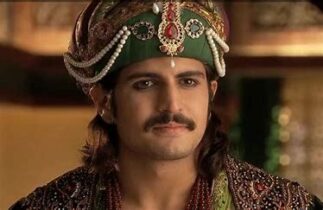 Devika: So, thought of you. Thanks, Nakhul.
Nakhul: Bhabishri, I adore you a lot. Even I tell you all the secrets.
Devika: What are you going to tell me now?
Nakhul: Bhabishri, actually I'm in love with someone.
Devika is shocked.
Devika: Who?
Nakhul: She is none other than your sister Karunmathi.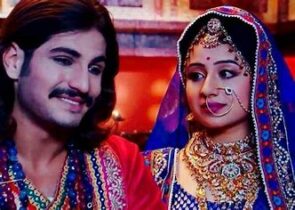 Devika feels relieved and happy.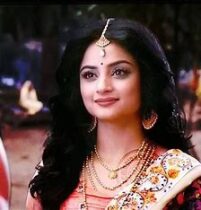 Devika: You scared me for a minute…
Nakhul feels confused.
Devika: I know that my sister loves you.
Nakhul: How?
Devika: I'm not only her sister but also her mother. I nurtured her and bought up her. I know her to the fullest. Every time when she comes here, I have noticed her love for you many times.
Nakhul feels shy.
Nakhul: We both started liking each other from your marriage.
Devika smiles.
Devika: You both are a lovely pair. Don't worry, after Arjun's marriage with Draupadi, I'll speak with Ma and arrange your wedding.
Nakhul: Thank you Bhabishri.
He then leaves.
Scene 2
Bhanu calls Vrushali and looks for her. She notices her sitting all alone in the garden.
Bhanu: Vrushali, what happened? Why your face looks dull?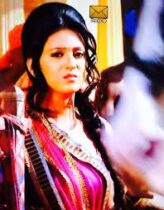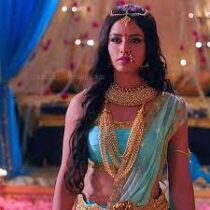 Vrushali: Nothing princess.
Bhanu: You are my friend, tell me what happened?
Vrushali cries. Bhanu consoles her.
Bhanu: What happened?
Vrushali: I love Karn.
Bhanu is shocked.
Bhanu: What?
Vrushali: Yes, I love him since childhood. Even he had affection for me before. But when he became king, he is not even talking to me. He behaves like a stranger.
Bhanu: No Vrushali, bhai is not like that.
Vrushali: Even now he is praising Draupadi and he wishes to marry her.
Bhanu: That won't happen. He won't go there. Only Arjun Devarji will win and marry her.
Vrushali: How can you be so sure?
Bhanu: Vrushali, I promise you that you'll marry him. I'm so happy to hear this. You are perfect for him.
Vrushali hugs her and thanks her.
Scene 3
Bhim comes to a jungle. He takes a stone from the pool and throws it toward the forest. Suddenly the trees look door opens. It is a forest filled with Maya. The homeplace of Hidimba. Currently, she is the queen there.
The people welcome Bhim throwing flowers at him. He greets everyone and finally goes to the cave palace of Hidimba.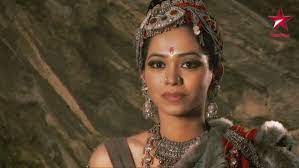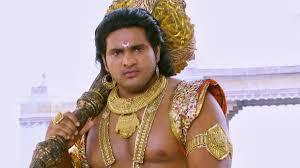 She hugs him and tells him that she missed him a lot.
She then takes their son and gives it to him.
Bhim: He is overgrown for 2 years.
Hidimba: We always grow like this only.
Bhim: Putr, your Bhanu Chachi has sent you ladoos.
Hidimba: Is everyone fine there? Bhanu didi and Devika didi are fine? Did you give the medicine? Ma, the queen, Matajis, and Dadima all are fine. Your brothers?
Bhim: Everyone is fine there. Everyone told their wishes to you. And you have a surprise.
Hidimba: What?
Bhim shows her the Shagun plate that Devika sent her. She gets teary-eyed.
Bhim: Don't cry.
Hidimba: I always think why didn't I born as a royal princess and stayed with you and your family. At least in the next incarnation, I need to stay with you and your family.
Bhim consoles her. Gatotkach cries…
Bhim and Hidimba play with him and he smiles.
Bhim: I think he needs a companion to play with. Maybe a sister or brother. Why can't we…
He teases her and she blushes…
They have a happy moment.
Scene 4
Kunti calls Vidhur.
Vidhur: babhishri…
Kunti: Devarji, can you do me a favor for me?
Vidhur: Sure.
Kunti: Please send a royal letter to the king of Madra to send Sahadev here. Arjun is going to get married and he needs to be here with him. He is staying there for almost 2 months. Ask him to come back soon.
Vidhur: Sure bhabishri, I'll send now.
He goes…
State of Madra…
Sahadev is shown in the gardens sitting and speaking with a girl.
Sahadev: Vijaya, you are mine since childhood. After Arjun bhai's wedding, I'll speak with ma soon.
Vijaya: I trust you.
She lies on his shoulder and they spend a beautiful moment.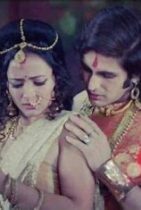 Meanwhile, in Panchaal…
Draupadi is eagerly looking at the entrance.
Dadisa: Whom are you waiting for?
Krishna: For me.
Draupadi gets happy seeing him. Dadisa also smiles. He greets them both, then Dadisa takes a leave.
Krishna: Sakhi…
Draupadi: Govindha, I'm so confused about my wedding. I can't choose a suitable groom.
Krishna: I see… Sakhi, you are the avatar of fire. You have a lot more work to do. This is a simple issue.
Draupadi: Everyone says this. But I don't want this. I want a life that is simple and happy. Why should I need to sacrifice my happiness for others?
Krishna: Fine, with whom do you think you'll be happy?
Draupadi: I feel Karn.
Krishna smiles.
Krishna: Without dharm on his side, how could happiness come?
Draupadi: He is donating wealth every day; how could you say that he won't have dharm.
Krishna: Donating is not dharm. Leading a life in dharm path matters more.
Draupadi looks confused.
Krishna: Sakhi com…, sit here.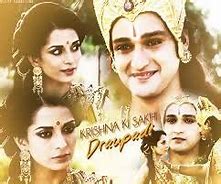 Krishna: Karn is with Duryodhan. He could have made his friend walk in a dharm path, but he failed. It's not love that you have for him. It's respect and sympathy for him. Think hard, you'll get the truth. Ask your heart who you love. Take your time and think well.
He leaves…Draupadi thinks about Karn and Arjun….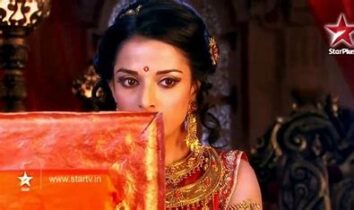 *********************************************************************
Precap:
Arjun comes to meet Draupadi in a saint avatar…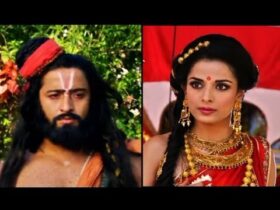 Bhanu forbids Karn to go to suymawar…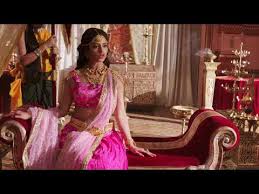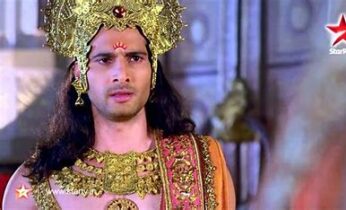 Satyavati meets the King of Kashi and asks his daughter Valandhara for marriage to Bhim…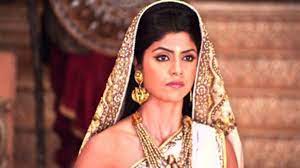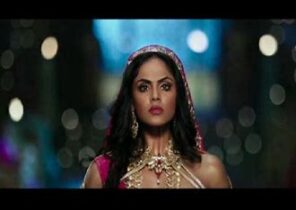 A young princess across the sea sees Yudhistr's photo and wishes to marry him…